Flush Door in Rajasthan
As a reputed name in the plywood industry, We are the best Flush Door Manufacturers in Rajasthan, India. These flush doors are manufactured from hand-picked hardwood wood with preservative-treated and well seasoned. Due to standing more durable and highly dimensionally durable, our products are used for interior as well as exterior application purposes. Not only Flush Door are structurally robust but they act as good insulators against warmth and sound.
The offered flush doors are used primarily in residential and public buildings. It suits the best where there is the necessity for light and cross-ventilation in the rooms. A Flush Door operates the best to provide solitude and protection in the home.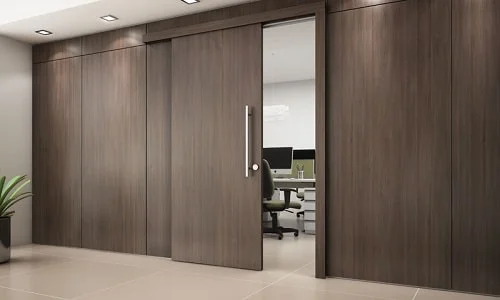 Features of Flush Door
Chemically feted and vacuum pressed to create them both heat and water-resistant.
Dimensionally precise and long-lasting, minimizing possibilities of gaps, warps and wrenches even in intense climate situations.
Superbly stable with a high screw bearing capacity.
Specially strengthened lock area ("lock block") on both sides for maximum safety.
Specifications of Flush Door
Standard Thickness
6mm, 9mm, 12mm, 15mm 18mm, and upto 50mm
Length
5ft to 8ft
Width
Customise
The question arises in mind that there are various places where you can buy flush door then why us?
Sangam Plus Plywood is among the leading Flush Door Manufacturers in Rajasthan, India. The offered flush doors are composed of hand-picked veneers and phenolic polymer sheets, as it is the ideal option for the impending home decor. Clients can acquire these flush door in various sizes as per their requirements at affordable prices.
Our Service Network
Flush Door Manufacturers in Jaipur
Flush Door Manufacturers in Jodhpur
Flush Door Manufacturers in Kota
Flush Door Manufacturers in Bikaner
Flush Door Manufacturers in Ajmer
Flush Door Manufacturers in Udaipur
Flush Door Manufacturers in Bhilwara
Flush Door Manufacturers in Alwar
Flush Door Manufacturers in Bharatpur